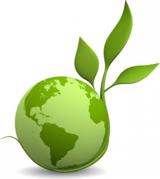 At Woodtech we have long believed that we, like all other citizens have an obligation to reduce our impact on the environment in any way feasible. We started by using as many recyclable products a possible. That was the easy part. Unfortunately, the touch up products that worked best did not meet the rigorous LEEDS standards. Although our customers were mindful of the impact on the environment, they wanted products that worked, and at first that was difficult. Woodtech began to transform its products into more earth friendly by manufacturing our own scratch remover/polish which has as its main ingredient, orange oil. Orange oil, which is a byproduct of the food industry has no voc and is infinitely renewable. Then we adopted touch up procedures that minimized the amount of products used, further reducing our impact.

We continued by testing and ultimately adopting some lacquers which have no VOC, which has the added benefit of having no smell or odor at all. While these are not right for all applications, we use them when appropriate. We continue to evaluate new products which are heralded as "Green" or "Low VOC", and as they are proven effective we incorporate them into our service.

We use low or no VOC stains, environmentally sustainable polishes and cleaners, and recyclables whenever possible not just because our customers want it, but because we feel we have an obligation to conserve our resources and protect the environment for future generations. It is just the right thing to do.